MA Announces Availability of Second COVID-19 Booster Dose for Residents 50 and Older and Immunocompromised Individuals
Those eligible include:
Individuals 50 years of age and older at least 4 months after getting a first booster

Individuals 18 and older with

certain medical conditions

may get a second Moderna  booster at least 4 months after first booster

Individuals 12 and older with

certain medical conditions

may get a second Pfizer booster at least 4 months after the first booster.
Need a COVID-19 Vaccine?
If you are eligible, here are the steps to find a convenient location for getting a second COVID-19 Booster:
Visit the Vaxfinder tool at 

vaxfinder.mass.gov

 for a full list of hundreds of locations to receive a booster and to book an appointment.

For individuals who are unable to use Vaxfinder, or have difficulty accessing the internet, the COVID-19 Vaccine Resource Line (Monday through Friday, 8:30 a.m. to 6:00 p.m., Saturday and Sunday 9 a.m. to 2 p.m.) is available for assistance by calling 2-1-1 and following the prompts. This service is available in English and Spanish and has translators available in approximately 100 additional languages.

Individuals with questions about the booster or their eligibility should contact their healthcare provider.
Know Your COVID-19 Community Level
COVID-19 Community Levels are a new tool to help communities decide what prevention steps to take based on the latest data. Levels can be low, medium, or high and are determined by looking at hospital beds being used, hospital admissions, and the total number of new COVID-19 cases in an area. Take precautions to protect yourself and others from COVID-19 based on the COVID-19 Community Level in your area. 
COVID-19 SMART Health Card
Request, view and print your vaccination records and your COVID-19 SMART Health Card from the official Massachusetts Immunization Information System (MIIS). Download here >   myvaxrecords.mass.gov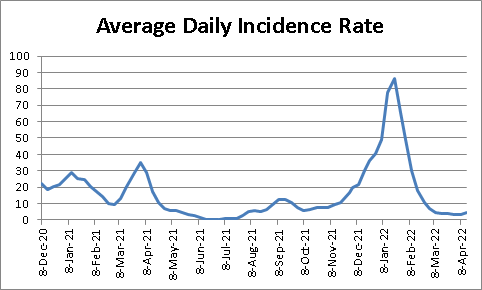 Incidence Rate in the Town of BarnstableThe incidence rate has slightly increased to a fourteen day daily average of 4.6 new cases per day in the Town of Barnstable.Local, County, State, and National Cumulative Case and Death CountsA cumulative total of 9,331 Town of...