Barnstable County Medium COVID-19 Community Level Designation
The Centers for Disease Control and Prevention (CDC)  now classifies Barnstable County as being at a high COVID-19 community level.  Community levels can be low, medium, or high and are determined by looking at hospital admissions and the total number of COVID-19 cases in an area. 
Deaths in the United States; Chart of Weekly Trends of COVID-19 Deaths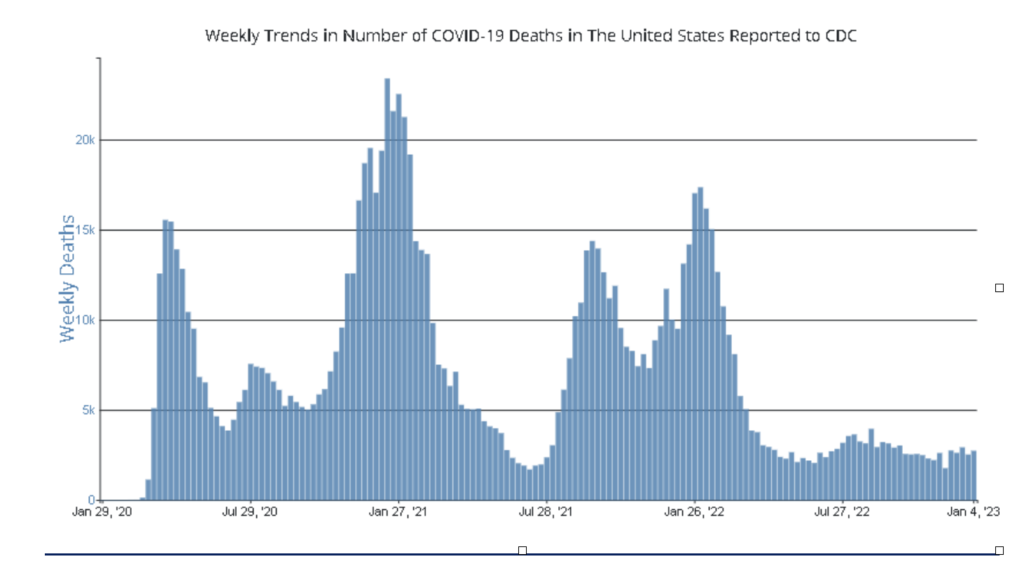 Hospitalizations
Barnstable County Hospitalizations:  According to Cape Cod Healthcare, there were a total of thirty-eight (38) patients who were being treated for COVID-19 at Cape Cod and Falmouth hospitals on January 5, 2023.  Three (3) of the thirty-eight patients were in an intensive care unit (ICU) on that date.
Massachusetts Hospitalizations:  According to the Massachusetts Department of Public Health, on January 3rd, there were a total of 437 patients primarily hospitalized for COVID-19 in the Commonwealth.  In total, there were 1,336 patients hospitalized with COVID -19.  127 patients were in intensive care units and 44 patients were intubated.  Of those 1,336 patients, 890 patients (67%) were reported to be fully vaccinated when they contracted COVID-19.
Reported Data from MA DPH and John Hopkins University:  Cases Case Counts; Deaths
Town of Barnstable:  12,224 total cases (positive residents) cumulatively to date, 161 new cases during the last two weeks.
Barnstable County:  47,821 cases, 653 cases in the last two weeks; 731 deaths cumulatively, 11 deaths in the last 2 weeks
Massachusetts:  1,978,312 cases of State of Massachusetts residents cumulatively to date, 18,781 cases in the last two weeks; 21,291 confirmed deaths, 235 deaths in the last two weeks.  The average age of death during the past two weeks was 81 years old.
United States:  According to John Hopkins University, there have been a total of 101,172,593 positive COVID-19 cases cumulatively in the United States resulting in 1,096,147 deaths nationwide as of January 6, 2023.
Vaccination and Booster Status:  Barnstable County Residents
Eighty-one percent (81%) of the Barnstable County residents are fully vaccinated.  Sixty-five percent (65%) of Barnstable County residents received at least one booster dose after being fully vaccinated, compared to 62% of the Massachusetts population.
Prevention Steps
The following prevention steps are recommended by the CDC:
If you have household or social contact with someone at high risk for getting very sick, consider self-testing to detect infection before contact, and consider wearing a high-quality mask when indoors with them
Avoid contact with people who have suspected or confirmed COVID-19.
Follow recommendations for isolation if you have suspected or confirmed COVID-19 (stay at home for five days, do not travel, wear a mask, etc).
Follow the recommendations for what to do if you are exposed   to someone with COVID-19 (i.e. wear a mask, get tested if you develop symptoms).
Wear a high-quality mask or respirator.
If you are at high risk of getting very sick, consider avoiding non-essential indoor activities in public where you could be exposed.
Stay up to date with COVID-19 vaccines.
Respectfully submitted,
Thomas McKean, RS, CHO,
Director of Public Health
<COVID 19 Updates Tues Jan 10 2023.docx>