Here at Parking Management, we are all about engaging our community in various ways never thought of before, and doing so in a fun way!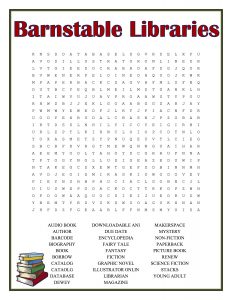 Many different town departments assist you every day when you park in Barnstable, even if you don't know it. To learn more about those services and programs we offer as an organization, our ParkHappy team created word searches that are fun for the whole family!
To print your own copy, please click on any and all below!
DOWNLOAD Today!
Word Search – Golf
Word Search – Library
Word Search – SENIOR CENTER
Word Search – A&C
Word Search – Airport
Word Search – Animal Control
Word Search – BEACHES
Word Search – Bismore
Word Search – DPW
Word Search – HARBORMASTER
Word Search – Parking Locations
Word Search – RECREATION
Word Search – W&M