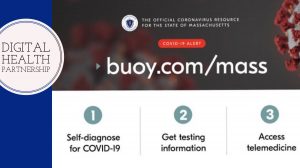 Massachusetts has launched a new resource that residents can use to assess symptoms and find the right care.
Buoy's online tool is not to be used in place of emergency medical care. If this is an emergency, call 911 or visit the nearest emergency room.
Massachusetts residents can visit www.Buoy.com/mass to get advice from an online health assistant safely at home, for free.
Buoy will connect you with the appropriate health care resource based on your symptoms and risk factors for COVID-19.
Here's how it works:
Tell Buoy about your symptoms and risk factors
Figure out if you should be tested for COVID-19
Get directed to the most appropriate health care resource
Learn about the virus, access prevention tips, and more
Fees
for Check your symptoms for COVID-19 online
The Buoy online health tool is free for Massachusetts residents.
Visit buoy.com/mass for self diagnosis tools and info on getting tested.